Affordable & Professional
commercial and domestiC pressure washing
Nice Clean Driveway Cleaning
DRIVEWAY MAINTENANCE
Having your driveway maintained can increase the value of your property, so no matter if you are selling your property or you are just looking to have your driveway cleaned to spruce up the look, you have come to the right place.
After pressure washing your block paving we always re-sand the required areas. We are also able to offer a re-pointing service for patios if required too.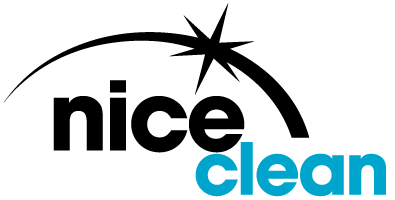 in Swindon, Abbey Meads, Bridgemead, Broome Manor, Cheney Manor, Churchward, Coleview, Covingham, Croft, Dorcan, Eastleaze, Eastmead, East Wichel, Eldene, Ferndale, Freshbrook, Gorse Hill, Grange Park, Greenbridge, Greenmeadow, Hawksworth, Haydon Wick, Kembrey Park, Kingsdown, Lawn, Liden, Marshgate, Moredon, Middleleaze, New Town, Nine Elms, North Star, Nythe, Oakley Park, Okus, Old Town, Park North, Park South, Peatmoor, Pembroke Park, Penhill, Pinehurst, Railway Village, Ramleaze, Raybrook Park, Rodbourne, Rodbourne Cheney, Rushey Platt, Shaw, South Leaze, Sparcells, South Marston, Stratton St Margaret, Upper Stratton, Lower Stratton, St Andrew's Ridge, Taw Hill, The Prinnels, Toothill, Walcot East, Walcot West, Westmead, Westlea, West Leaze, Windmill Hill 
DRIVEWAY PRESSURE WASHING
Nice Clean also offer an expert commercial pressure washing service too. After a commercial clean the area will be left slip proof, ensuring the safety of your staff, any visitors and the general public.
Our pressure washing and driveway cleaning service only involves the use of eco friendly products and you will have no regrets utilising our services to take care of such a dirty job.
We clear away all waste after all our cleans and you would never know we have been to your property if it wasn't for the fact you now have a very clean driveway!
Our specialists will take the top 10-15mm of contaminated jointing sand and after when it has had time to dry will brush fresh sand in.
We are also able to clean cladding and warehouses. Enquire for further details.
Nice Clean Ltd have a reputation for quality driveway cleaning services in and around the Swindon area.
Whatever your requirements feel free to make contact with us and we will do our best to quote you a fair price and deliver and worthy service.
Nice Clean, the company that gives you clarity offer a range of services that keep your property clean, whilst at the same time delivering a service that you can be proud of.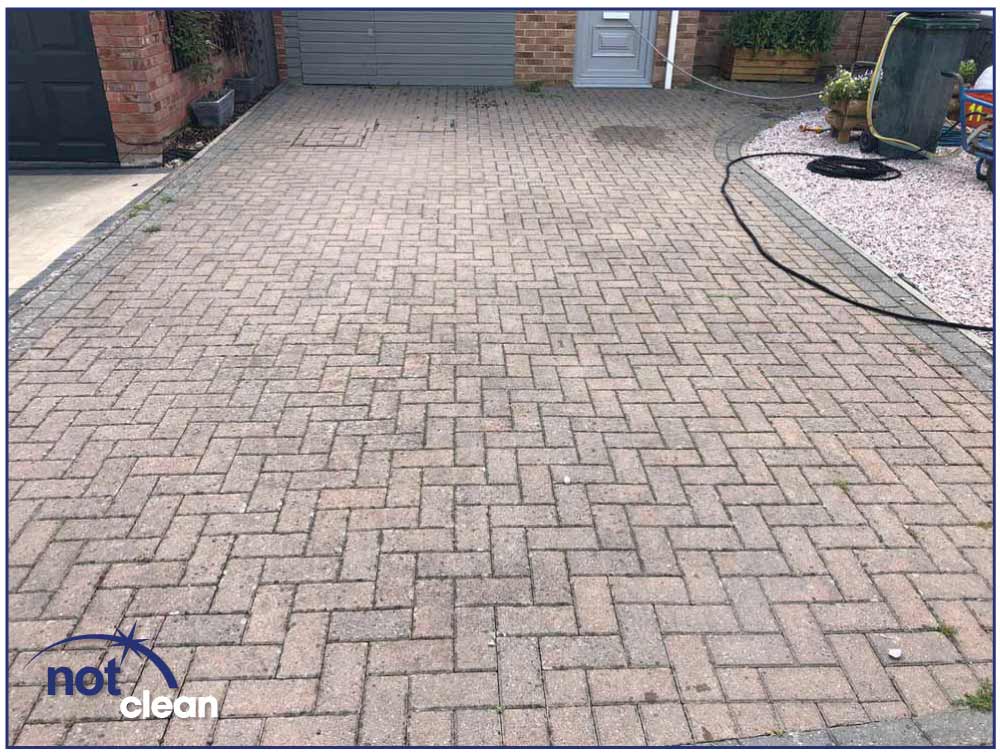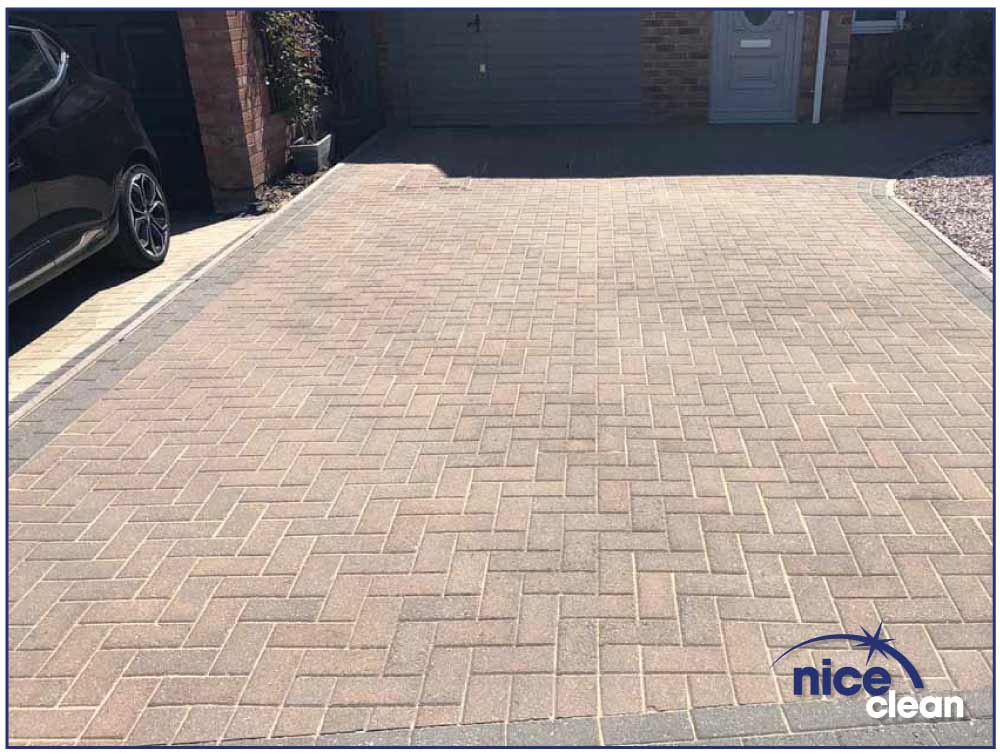 "Would recommend, work done as described."
Customer in Swindon April 2019
"Brilliant guys that did an exceptional job. Keeping me up to date with timings etc couldn't have asked for more."
Customer in Swindon April 2019
"No complaints at all. Replied to initial online quote request within half hour. Came round to look and give quote 2 days later and work carried out 2 days after that. Found Chris to be very polite and kept me informed throughout. Definitely will use again."
Customer in Swindon May 2019
The Driveway Cleaning Process...
The process of cleaning the different types of hard landscapes differs slightly depending on the surface type.  Essentially the principles remain the same for driveway cleaning with the main difference being the reduced pressure being used on tarmac for example.   With years of experience, as well as training ensures we select the right tools for the surface type requiring cleaning.  We use our flat surface cleaner alongside our petrol pressure washers to clean the surface of the driveway.  We can also control the pressure and flow rate of the water to ensure your driveway isn't damaged during the process.  The flat surface cleaner ensures we keep the mess under control.
Step 1 – Preparation
We will remove items that can be moved from the driveway to ensure no areas are left without being cleaned.  This would include items such as wheelie bins, plants or any other items easily removed.  Next the driveway would be brushed down to remove item such as stones, leafs etc. from the surface.
Step 2 – Equipment
Unloading and setting up the pressure washer and rotary cleaner is the next step.  This will include connecting to a water supply and filling our buffer tank with water.  The pressure washer then draws the water it requires from the tank rather than being connected directly to the water supply.
Step 3 – Getting Started
Next we will get to work with the flat surface cleaner.  Covering the whole area of the driveway to ensure a nice even clean while keeping the mess under control.  This will remove the surface dirt, weeds, moss and algae from the driveway.  All of which will be brushed away from your drains and into a pile, which allows the water to drain away.
Step 4 – Finishing Touches
Next using the lance we will continue around the edges and any small areas that the surface cleaner perhaps cannot access.  A full rinse down is then completed to ensure all surface dirt is removed.  Next will then bag and collect any waste matter to save this from entering your drainage system.
Step 5 – Sanding
After the cleaning of a Brick Pavier/Mono Block Driveway and allowing the blocks to fully dry sanding will be completed on a dry day.  Using kiln dried sand to brush into the joints has a few benefits.
1. The sand is sterile – which helps fight the regrowth of weeds.
2. Stabilises the blocks.
3. Competes the improved looked of the driveway by filling the joints with a clean, bright sand.
It is vitally important that the blocks are fully dried.  If the blocks are even a little damp between the blocks it will stop the sand from completely filling the joint.  With this in mind, sanding is completed usually a few days after the cleaning process.  Sanding can only be completed in dry weather as damp sand is unworkable and will not allow the joints to be sanded fully.  You should now have a bright, clean, restored driveway again.
We will just need a few details from you first. Give us as much information as possible to enable us to accurately quote you.