Affordable & Professional
commercial and domestiC WINDOW cleaning
Nice Clean Window Cleaning
Nice Clean, are the trusted domestic and commercial window cleaning company in Swindon, Wiltshire that gives you a professional window cleaning service. Our window cleaners always deliver a high quality service, as our customers will testify to. Nice Clean Ltd in Swindon, Wiltshire offer a window cleaning service in and around the Swindon and Wiltshire area. Our standard window clean will focus ONLY on the outside of your windows, for an additional fee we will clean the inside of your windows too!
Nice Clean Window Cleaning Service
The night before we clean:
We text & email you a reminder.
If necessary you unlock and side gates etc.
If you need an appointment time, let us know.
The day of the clean:
All frames, sills, glass and doors will be cleaned.
We make final checks.
We shut gates on exit.
All work is guaranteed.
Making a payment:
We will send an invoice by email and text.
Pay by card or the simple GoCardless system.
Your next clean:
This is automatically scheduled in
The process will start again with us contacting you the evening before we are due to clean.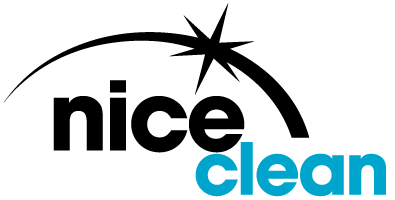 Domestic & Commercial Window Cleaning
in Swindon, Abbey Meads, Bridgemead, Broome Manor, Cheney Manor, Churchward, Coleview, Covingham, Croft, Dorcan, Eastleaze, Eastmead, East Wichel, Eldene, Ferndale, Freshbrook, Gorse Hill, Grange Park, Greenbridge, Greenmeadow, Hawksworth, Haydon Wick, Kembrey Park, Kingsdown, Lawn, Liden, Marshgate, Moredon, Middleleaze, New Town, Nine Elms, North Star, Nythe, Oakley Park, Okus, Old Town, Park North, Park South, Peatmoor, Pembroke Park, Penhill, Pinehurst, Railway Village, Ramleaze, Raybrook Park, Rodbourne, Rodbourne Cheney, Rushey Platt, Shaw, South Leaze, Sparcells, South Marston, Stratton St Margaret, Upper Stratton, Lower Stratton, St Andrew's Ridge, Taw Hill, The Prinnels, Toothill, Walcot East, Walcot West, Westmead, Westlea, West Leaze, Windmill Hill 
At the centre of our ethos is excellent customer service and fantastic cleaning results, if you're not satisfied then we are not satisfied.
Nice Clean only use eco friendly products as we firmly believe in caring for the environment.
Serving Swindon and the surrounding areas of Wiltshire, our friendly staff will guarantee you the best service and reliability that meets your needs.
Nice Clean understand that people's lives are very busy these days so we'll always let you know when we're coming with a text message, and we'll complete the job with minimum fuss to an expert standard.
Nice Clean Ltd have a reputation for quality window cleaning services in and around the Swindon area.
Whatever your requirements feel free to make contact with us and we will do our best to quote you a fair price and deliver and worthy service.
Nice Clean, the company that gives you clarity offer a range of services that keep your property clean, whilst at the same time delivering a service that you can be proud of.
SIGN UP BELOW TO HAVE YOUR
WINDOWS 'NICE CLEANED'!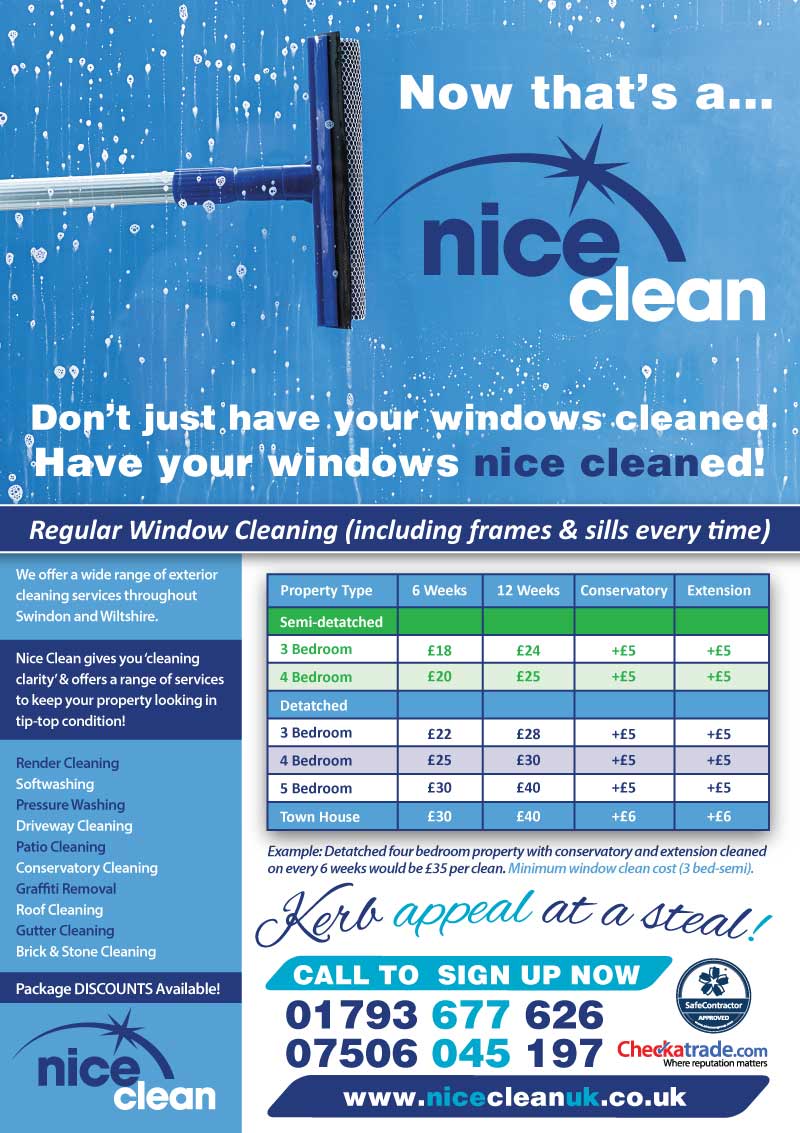 "Chris always calls or texts prior to his regular clean then completes the work in a timely manner. This is his 3rd clean for us."
Customer in Swindon April 2016
"A hard working, friendly proprietor and has made a 5* first impression. I have already recommended him to neighbours."
Customer in Swindon February 2016
"Chris and his team mate were very thorough and courteous. We've retained them on a regular window cleaning cycle and have procured further works from them (patio and driveway clean and sand)."
Customer in Swindon August 2019
We will just need a few details from you first. Give us as much information as possible to enable us to accurately quote you.